04.24.2003
Announcing Contextual Network Graphs
Contextual network graphs! A better-than-keyword-search, scalable, brand spanking new partially reinvented search algorithm.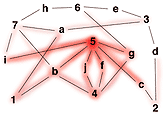 You can read the paper in PDF form, if you have a technical bent and like search engines. I hope to have a demo up soon.
Idle Words
brevity is for the weak
Your Host
Maciej Cegłowski
maciej @ ceglowski.com
Threat
Please ask permission before reprinting full-text posts or I will crush you.